Hyper-focused on regional events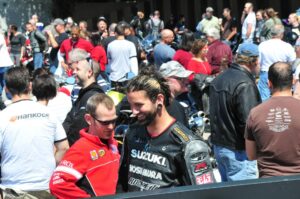 Welcome!
We are bringing this new web site to the Greater Cincinnati Ohio region to showcase motorcycle events and help you plan your personal event calendar. Find new clubs, new communities, new venues and new places to ride. We want to help you grow your network of motorcycle friends and help you find ways to put more miles on your odometer.
This effort is brought to you buy a small group of local riders who are dissastisfied with the fragmented options to locate events. We hope to provide a comprehensive listing so you can see everything at a glance. This site is not directly affiliated with any motorcycle dealership, repair shop, club or group. We want to keep it agnostic to any of those so we can be objective.
We encourage you to submit events that you think others will be interested in seeing. Or encourage the event promoters (including dealerships, repair shops, clubs or other event organizers) to come and submit their listings. Its FREE. We may offer a paid version of a listing to have it "featured" and that revenue will be used to offset our expenses. Any retained earnings will be donated to motorcyle related charities.
Get To Know The Team
Below are the folks who work behind the scenes to make this possible. Nobody is paid. Its all volunteer work. By local riders, for local riders.
Aerin Shaw (aka MotoVollari and Les Femmes Vitesse)
Aerin Shaw is a woman who wears tight leather, rides a fast Suzuki Hayabusa sport bike (I dare you to try to keep up with her!) and comes from a long background in marketing for brands such as Nike, Disney and many more. She is definitely a people person. During her time in California she created Les Femmes Vitesse to recognize and bond fast women riders of style and substance. She also is creator of MotoVollari ("flying motorcycle") with more plans to be revealed! Chat her up at any local bike night.

---
Beverly Corsmeier (aka The Indian Empress)
Beverly is a woman who loves Indian motorcycles almost as much as she does putting together a good party. Her day job in Real Estate ensures she is a people person and a connector. You'll often see her at bike nights in the summer, or winning first place at motorcycle shows with her Indian four cylinder motorcycles.
---
Tim Burke (aka CincyMoto)
Tim Burke is our web master. He was formerly the owner of a local motorcycle shop called Piston Society. He was the founder of the Cincinnati Cafe Racer club (he no longer manages) and the founder of many of that clubs events including many bike nights, rides, Queen City Mods vs Rockers rally (QCMAR), Motoberfest, and the infamous Garage Brewed Moto Show. However, now he simply works his day job in software sales, travels by campervan and motorcycle to many events you'll see in our listings. So he knows the scene but is no longer directly affiliated with the above. You'll find him helping the Cincinnati Classic British Motorcycle club with their web site and communications committee, he is a member of the Cincinnati BMW motorcycle club and the VJMC club, GS Giants, AMA, and enjoys riding both modern and vintage bikes.

---
Michael Roose (aka MotoGuzzi Mike, the Sherpa)
Mike loves to put the miles on the odometer of his Moto Guzzi ADV motorcycle. You'll often find him riding solo in the rolling hills of Kentucky. He is training to become a certified motorcycle instructor. Mike also works in IT for the VA administration and enjoys sunsets and long walks along the beach.

---
This web domain name (QueenCityMoto.com) was formerly used by a motorcycle repair shop ran by a friend to all in the local community, Scott Griffith. Scotty G. was a music soundman for some of the largest bands. But after a motorcycle accident years ago, he turned his focus to running a local motorcycle charity named "Look Twice Cincy" aiding fallen riders. You'd always find him at the Comet bike nights, flat track racing or helping some youngster figure out his carburetors. He ran a repair shop named Queen City Moto until his untimely passing in Sept 2022. He loved the local moto community and we hope we can do him proud by extending his goals of bringing the community together with this web site.