This one-hour thirty minute informational session is open to all endorsed motorcycle riders interested in bec
oming a 2-wheel Motorcycle Ohio instructor. This location will be the location for the Spring 2023 Instructor Prep Class. In attendance will be past graduates of the instructor prep class, interested candidates, representative from Motorcycle Ohio, and area program managers.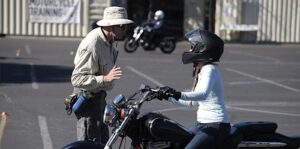 The event will include 20 minutes of networking, a 15 minute presentation followed by a Q & A Session. At the end of the event there will be an opportunity for more networking.
Nothing is needed. Just come to have your questions answered and decide if teaching is for you. This is not a registration session to take a class or to get your endorsement. This is an information session on how to become an instructor.
To be considered you must attend this orientation session and meet the following:
You must have 3 consecutive years of endorsed riding under your belt with a valid, non-suspended license and a two-wheel motorcycle endorsement;
Under 6 points on your valid driver's license;
Do not have a 12-point suspension/conviction within the past 5 years;
Do not have a OVI/DUI conviction within the past 5 years;
Do not have any felony conviction within the past five years; and
Do not have a misdemeanor of the first or second degree within the past five years.
Before you respond, a few items to consider:
This information session is for 2-wheel endorsed riders who operate a motorcycle on a regular basis.
Interested riders may be asked to attend a on cycle skill assessment.
The instructor prep class itself will have limited enrollment.
If enrolled into an instructor prep class, it will require over 90 hours to total training time. This includes pre-course work, distance learning components, on-cycle training, and study time based on a standardized curriculum developed by Motorcycle Ohio.
If enrolled, Motorcycle Ohio will review your driving record and request a background check.
Attendance does not guarantee success. Students may be dismissed, withdraw, or fail the final exams.
Graduates will be asked to maintain specific annual or bi-annual certifications to remain certified.
Questions?
Please email mogen@dps.ohio.gov, with subject line IPC Questions.
FAQs
Do I have to bring my printed ticket to the event? No. We'll have a sign-in sheet on hand for the event.